The Best Ways To Style Denim For Any Occasion
Denim is a versatile fabric that can be dressed up or down depending on the occasion.…
Denim is a versatile fabric that can be dressed up or down depending on the occasion. Denim can be a stylish and comfortable option for everything from casual outings to formal events.
However, with so many different styles and cuts, knowing how to style denim for each occasion can be difficult. This blog post will go over the best ways to wear denim for any occasion.
Casual Outings
Denim is ideal for casual outings like brunch, shopping, or a day at the park. To begin, select a pair of jeans that are both comfortable and flattering for your personal style. Distressed or ripped jeans can add an edgy touch to any outfit and are a popular choice for casual occasions.
Wear your jeans with a simple tee or tank top in a contrasting color. Tuck your shirt into your jeans or knot it at the waist for a more polished look. Consider layering a denim jacket over your top to add some extra style to your outfit. Denim jackets are adaptable and can be dressed up or down for any occasion. For a more relaxed look, choose a slightly oversized jacket that you can roll up the sleeves on.
Sneakers or sandals are ideal for casual outings when it comes to footwear. Choose a pair that is both comfortable and complements your outfit. Sneakers can add a sporty element to your ensemble, whereas sandals can be dressed up or down depending on the occasion.
Finally, finish your look with a crossbody bag or tote large enough to hold your essentials. Choose a bag that matches the style of your shoes and complements your outfit.
Work or Business Meetings
It's important to strike the right balance between professionalism and style when dressing for work or business meetings. While denim can be a great way to achieve a polished yet casual look, it's important to style it appropriately for the occasion.
Choose a dark wash pair of jeans that fit well and flatter your figure to achieve a professional look with denim. Dark wash denim is more formal than lighter washes, and it can help you achieve a sleek and sophisticated appearance. Avoid distressed or ripped jeans for this occasion because they may be perceived as unprofessional.
Next, wear your jeans with a tailored blazer and a blouse in contrasting colors. A blazer can instantly dress up an outfit and give it a more polished appearance. Choose a well-tailored blazer in a classic style that fits you well. A simple blouse in a solid color or a subtle pattern can finish the look and add a touch of elegance to your ensemble.
In terms of footwear, heels or loafers are ideal for work or business meetings. Select a pair that is both comfortable and stylish, and that complements your outfit. For this occasion, avoid wearing sneakers or other overly casual footwear.
Finally, finish your look with understated jewelry and a structured bag large enough to hold your work essentials. To complete the professional look, keep your makeup and hair simple and polished.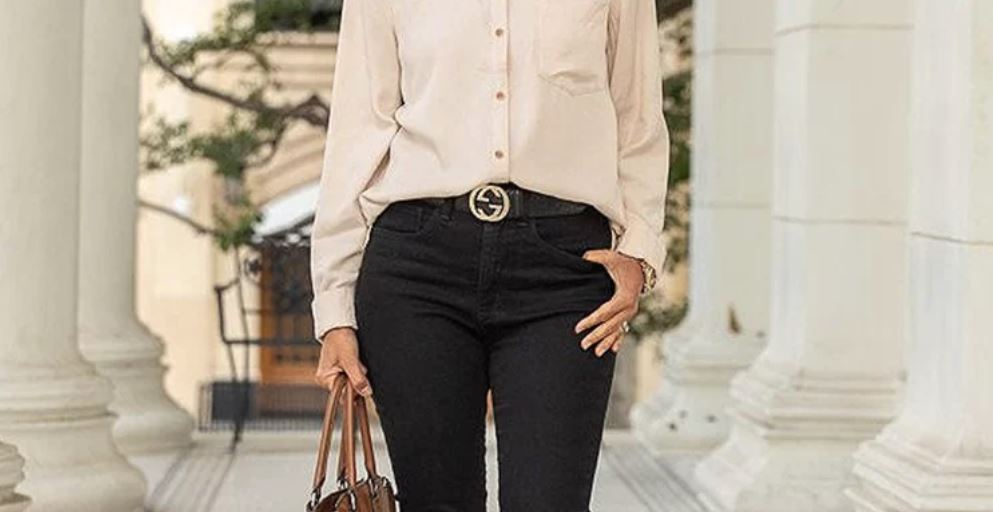 Date Night
Date night is an excellent opportunity to try out new looks and dress up for a special occasion. Denim can be dressed up or down depending on the occasion and your personal style, making it a versatile and stylish choice for a date night.
Choose a fitted denim dress or skirt in a darker wash for a more formal date night. Wear it with a cute blouse that contrasts with the denim, such as a silky or lacy top. Choose heels that will complement your outfit and lengthen your legs. To finish the look, add understated jewelry and a clutch purse.
If you prefer to wear pants, try a pair of skinny jeans with a crop top or a silk blouse. This outfit is ideal for a dinner date or a night of dancing. To add height and complement the outfit, choose a pair of heels or strappy sandals. To draw attention to your face, wear a statement necklace or earrings.
Wear a denim jacket with a cute sundress or romper for a more casual date night. Select a denim jacket that fits well and complements your ensemble. To keep the look casual and comfortable, add a pair of sneakers or sandals.
You can shop denim here and take advantage of the most cashback or visit oodlz to explore more stores with cashback now!
Formal Events
When dressing for a formal occasion, choose pieces that are tailored and fitted to your body. A denim jumpsuit or dress can be dressed up with the right accessories and is a great option. To achieve a more sophisticated look, look for denim with a sleek silhouette and minimal detailing.
Accessorize your denim look with statement jewelry, a clutch or evening bag, and a pair of high heels. Choose jewelry that complements but does not overpower your outfit. A pair of diamond studs or a delicate necklace, for example, can add a touch of elegance without being too flashy.
Choose a pair of high heels or dressy flats as your footwear. Avoid wearing sneakers or sandals to a formal event because they are too casual. Because you'll be standing and walking around all night, choose heels that are comfortable to wear for an extended period of time.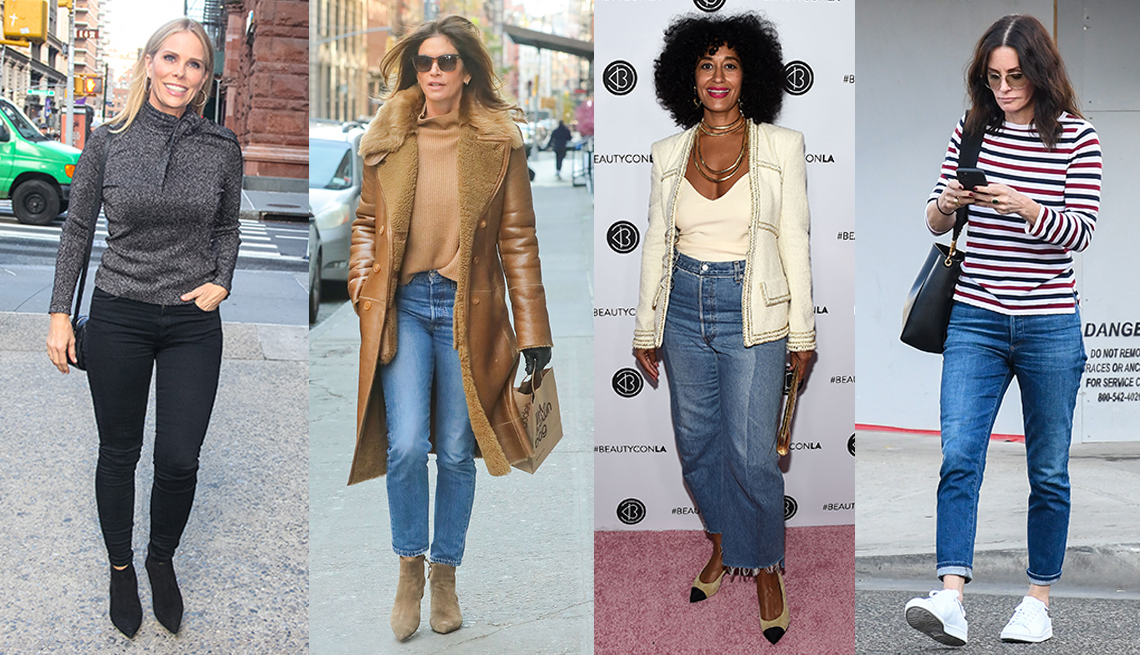 Traveling
When it comes to traveling, comfort is essential. Denim is an excellent choice for travel because it is both comfortable and fashionable. You want a pair of jeans that are comfortable to wear for long periods of time, so look for some stretch and a relaxed fit. A dark wash can also aid in the concealment of any spills or stains that may occur while traveling.
For a casual yet stylish look, pair your jeans with a loose-fitting t-shirt or sweater. Choose layers to allow you to adapt your outfit to changes in temperature or weather. Because it is versatile and can be dressed up or down, a denim jacket is an excellent addition to any travel outfit.
Choose comfortable sneakers or ankle boots that you can wear for extended periods of time without discomfort. High heels and shoes that are too tight or uncomfortable should be avoided. You want to be able to walk around without getting blisters or sore feet.
Complete your travel ensemble with a large tote bag or backpack that can hold all of your travel necessities, such as your passport, wallet, and phone. If you prefer to keep your hands free while exploring, a crossbody bag is a good option.
Outdoor Activities
Comfort and practicality are necessary when it comes to outdoor activities. Denim is a good choice because it is durable and can withstand the wear and tear of outdoor activities. It's critical to choose denim pieces that are both comfortable and functional for hiking or camping. Choose a pair of denim shorts or jeans that are made of sturdy denim and have a relaxed fit to give you plenty of room to move.
To keep you cool and dry, pair your denim bottoms with a comfortable t-shirt or tank top made of moisture-wicking fabric. To keep warm and protected from the elements, layer a denim jacket or hoodie over your outfit. Denim also works well for layering because it provides insulation without being too bulky.
Choose a pair of comfortable hiking boots or sneakers with good grip and support to ensure you can safely navigate any terrain. A backpack or crossbody bag is a convenient way to transport all of your outdoor necessities, such as a water bottle, snacks, and sunscreen.

Conclusion
In conclusion, denim is a versatile fabric that can be dressed up or down for any occasion, including casual outings, work, date night, formal events, traveling, and outdoor activities. You can create a stylish and comfortable outfit for any occasion by selecting the right style and cut of denim and pairing it with the appropriate clothing items and accessories. So, the next time you're stuck for what to wear, reach for your trusty denim and get creative with your styling!
Never miss
cashback!
Download our Apps or Browser Extensions and every time you shop, we'll remind you when cashback is available.