4 Reasons Why Photo Gifts Are Perfect
Personalized photo gifts for special occasions such as birthdays and anniversaries are becoming increasingly popular. Everyone…
Personalized photo gifts for special occasions such as birthdays and anniversaries are becoming increasingly popular. Everyone appreciates a gift that is one-of-a-kind and truly reflects the recipient, making personalized photo gifts an excellent choice
There's something for everyone, from personalized mugs to blankets. With so many unique options available, it can be difficult to select the perfect gift.
Creative Options
Canvas prints, mugs, and puzzles are excellent choices for those looking for unique photo gift ideas! Canvas prints transform digital images into beautiful works of art that can be displayed on any wall. Consider having the image printed on a mug or puzzle for a more personal touch.
Canvas prints come in a variety of sizes and with a variety of framing options. Mugs are a great conversation starter and come in a variety of shapes and designs. Puzzles are enjoyable for people of all ages and come in a variety of designs that will make any home more inviting.
You can add a unique touch to any occasion or event by using these creative photo gifts! Whether it's a special birthday, anniversary, or holiday celebration, these gifts will make anyone happy. So don't wait - order one of these incredible custom items today!
Benefits of Personalization
Creating personalized photo gifts is a great way to show someone you care about how much you appreciate them. You can easily create unique and meaningful photo gifts with just a few clicks thanks to modern technology. These items are ideal for a variety of occasions, including birthdays, anniversaries, and everything in between.
Personalizing photos adds a sentimental layer that goes beyond store-bought products. By personalizing a gift, you can create something truly one-of-a-kind that will make the recipient feel truly appreciated.
Personalized photo gifts also make excellent keepsakes that will last for many years. From mugs and t-shirts to blankets and pillows, the possibilities for personalization are endless!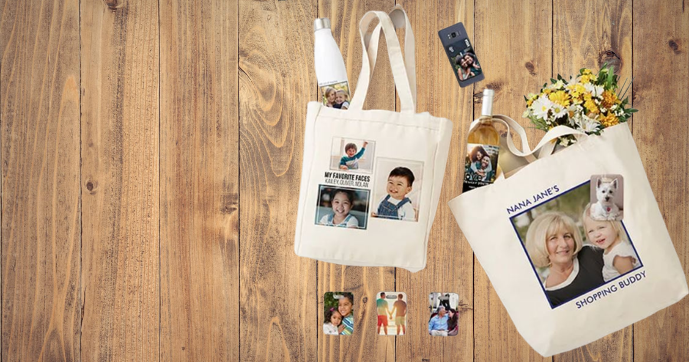 How to Choose Photos
Choosing the right photo to capture and freeze favorite memories can be a difficult task. There is a lot to think about: resolution, size, subject matter, and so on. However, there are some simple steps you can take to ensure you select the best photo.
First, consider the image's resolution. A higher resolution image allows for more detail in the printout or project medium. Look for high-resolution photos that will retain their details when enlarged if you want a large poster or canvas printout.
For example, if you're making a photo gift like a mug or t-shirt with your chosen image on it, the resolution should be at least 300 dpi (dots per inch) to maintain clarity and vibrancy when printed onto those items.
When working on smaller projects like a computer print, business cards, or postcards, photo resolution does not need to be as high. In fact, most digital photos can be sent and printed for low-resolution applications like those mentioned above without sacrificing quality.
Variety and Affordable Prices
When you use an online platform that specializes in printing and delivering your customized product, you can easily create a custom photo gift at an affordable price. With hundreds of products to choose from, there is something for everyone, from canvas prints to mugs and t-shirts.
You can even use your own photos or logos to make something truly unique that the recipient will treasure. Furthermore, many websites offer discounts if you order multiple items, and they frequently have no minimum order quantity, making it easier than ever to find the perfect gift at an unbeatable price!
Printcious provides a diverse range of personalized photo gifts. You can browse through various categories such as mugs, t-shirts, keychains, and more, all with distinctive designs that set them apart from the crowd. Each item can be personalized with your own photos or text for a truly unique look.
Furthermore, most items are available in multiple sizes, allowing you to select the one that best meets your needs without breaking the bank.
You can shop directly and take advantage of the most cashback at oodlz!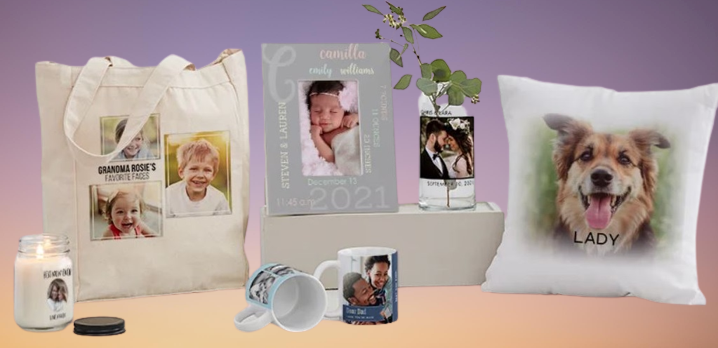 Perfect Gift for Every Occassion
In conclusion, photo gifts are an excellent way to preserve memories and commemorate special occasions. More than a material object, the thought and care that goes into the gift makes all the difference. Investing in something meaningful will undoubtedly bring smiles and joy to all parties involved.
Never miss
cashback!
Download our Apps or Browser Extensions and every time you shop, we'll remind you when cashback is available.