Scentbox: Bringing Luxury Fragrances To Your Doorstep
Are you tired of looking for the perfect fragrance to match your personality? Do you want…
Are you tired of looking for the perfect fragrance to match your personality? Do you want to try various perfumes without leaving your house? If so, Scentbox is the ideal solution for you. IT allows you to enjoy a luxury aroma trip from the comfort of your own home.
In this post, we'll explore how Scentbox is bringing luxury fragrances to your doorstep.
What is Scentbox?
Scentbox is a monthly subscription service that allows you to explore and enjoy exquisite perfumes. A subscription will provide you with a 30-day supply of a designer fragrance of your choice. They also provide a premium subscription that enables access to their whole collection of over 850 scents, including niche and difficult-to-find brands.
How It Works
Simply create an account and take their fragrance survey to get started. The questionnaire will ask you a series of questions to identify your fragrance preferences, such as your favorite scent kinds and how you generally wear perfume. Based on your answers, Scentbox will recommend fragrances that fit your style.
Once you've selected your fragrance, they will send you a 30-day supply of that fragrance in a sleek and portable atomizer. The atomizer is ideal for on-the-go touch-ups throughout the day, and changing out fragrances is simple. If you fall in love with a fragrance, you can purchase a full-size bottle directly from them.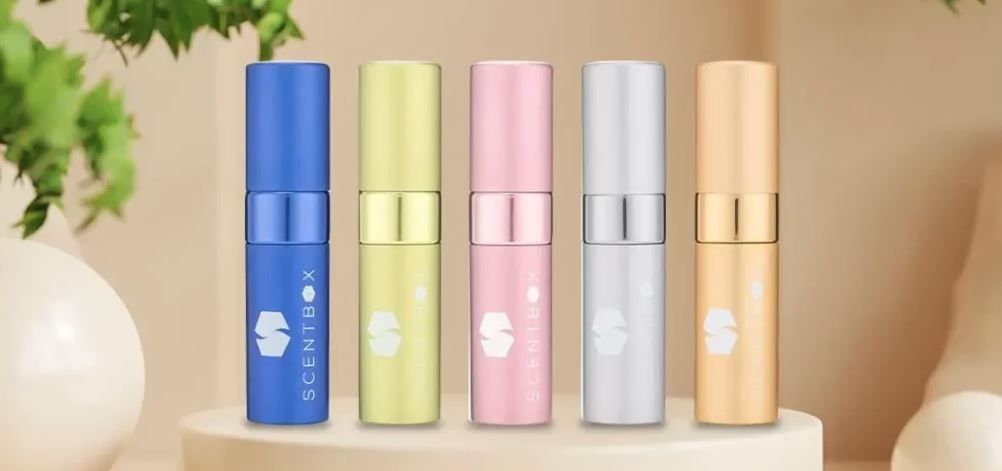 Benefits of Scentbox
Convenience
One of the most significant benefits is its portability. Scentbox allows you to sample a variety of fragrances without leaving your home. Furthermore, you won't have to spend a lot of money on a full-size bottle of a fragrance that you might not like after a few wears.
Affordability
Scentbox is an inexpensive way to sample luxury fragrances. You can try a new designer fragrance every month for just $14.95 per month. This is an excellent option for those who want to try out different scents without breaking the bank.
Customization
They provides a personalized experience based on your fragrance preferences. You'll get fragrance recommendations based on your answers to their fragrance quiz. You can also change your fragrance every month to keep things interesting.
Variety
Scentbox offers a diverse selection of fragrances, including niche and hard-to-find brands. This is an excellent way to discover new scents that you might not have discovered otherwise.
High-Quality Fragrances
All of their fragrances are high-quality designer fragrances. You can be confident that you're getting a high-quality fragrance that will turn heads.
You can shop perfumes here and take advantage of the most cashback or visit oodlz to explore more stores with cashback now!

Is It Worth It?
If you enjoy experimenting with different fragrances, Scentbox is well worth the money. It's a cheap way to try out new scents without having to buy a full-size bottle. Furthermore, the convenience factor makes it an excellent choice for people who do not have time to go to the store and browse through various fragrances.
Final Thoughts
Overall, Scentbox is an excellent subscription service for anyone who enjoys fine fragrances. With its low prices, convenience, and personalized recommendations, it's an excellent way to sample a wide range of high-quality fragrances. Furthermore, the atomizer allows you to take your fragrance with you and touch up throughout the day. Scentbox has you covered whether you're looking for a new signature scent or simply want to experiment with different fragrances.
One thing to keep in mind is that fragrance is a personal preference, and not everyone will love every fragrance they receive from Scentbox. However, with their extensive selection and personalized recommendations, your chances of discovering a fragrance that you adore are high.
Scentbox is definitely worth considering if you're a fragrance enthusiast or simply want to try out new scents without committing to a full-size bottle. It's a great way to experience luxury fragrances from the comfort of your own home, thanks to its affordable pricing, convenience, and customization options. Try Scentbox for yourself and see why so many people love this subscription service.
Take a look at this next blog: Women's Perfumes: The Best Fragrances On The Market
Never miss
cashback!
Download our Apps or Browser Extensions and every time you shop, we'll remind you when cashback is available.